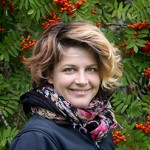 Ana Rhodes Castro has extensive training in a variety of transpersonal psychology disciplines including Process Work. She was the executive director of the Findhorn Foundation from 2007 – 2013. Ana works as a trainer and consultant in the areas of conflict facilitation, teamwork and supervision.
---
Liz Egan provides many years of experience as a fantastic, highly organised and caring administrator. Her background is in education as a teacher & manager, and she holds a Masters Degree in Information Management.
---
Andy Smith has a private practice as a registered UKCP psychotherapist in Edinburgh and also has a variety of other roles. With his partner Pat Black, he founded Diversity Matters, an organisation works for a more inclusive society particularly in education, social care and health systems.
---
Lily Vassiliou specialises in Processwork, Systems Theory & Group Dynamics. She has degrees in Social Work and Psychology. Lily is a founding member of "Process Work Greece" and works internationally around the world.
---
The Deep Democracy Institute focuses on bringing forward multi-dimensional leadership, change management, coaching and large group facilitation trainings. Gill is a DDI board member
---